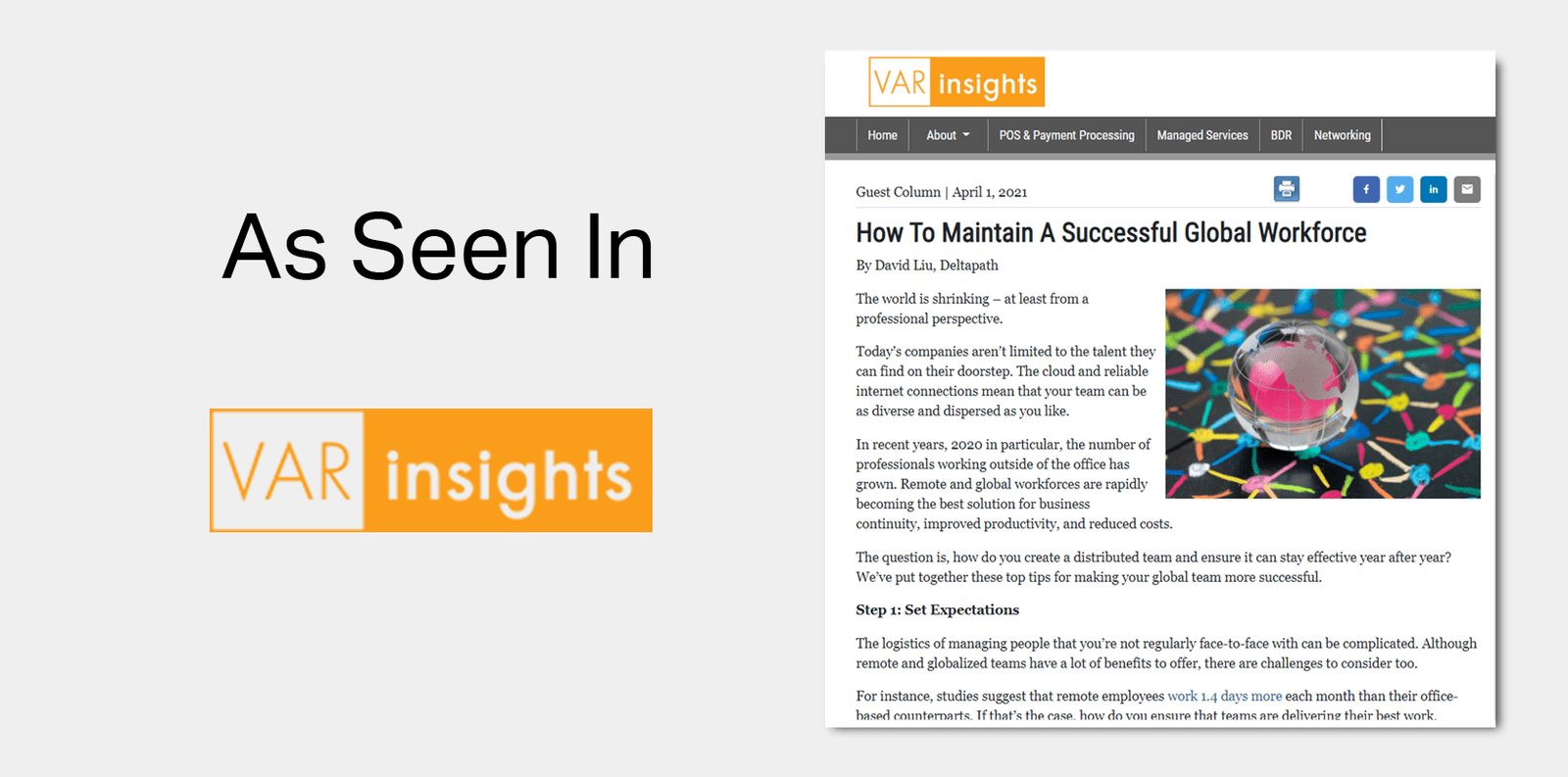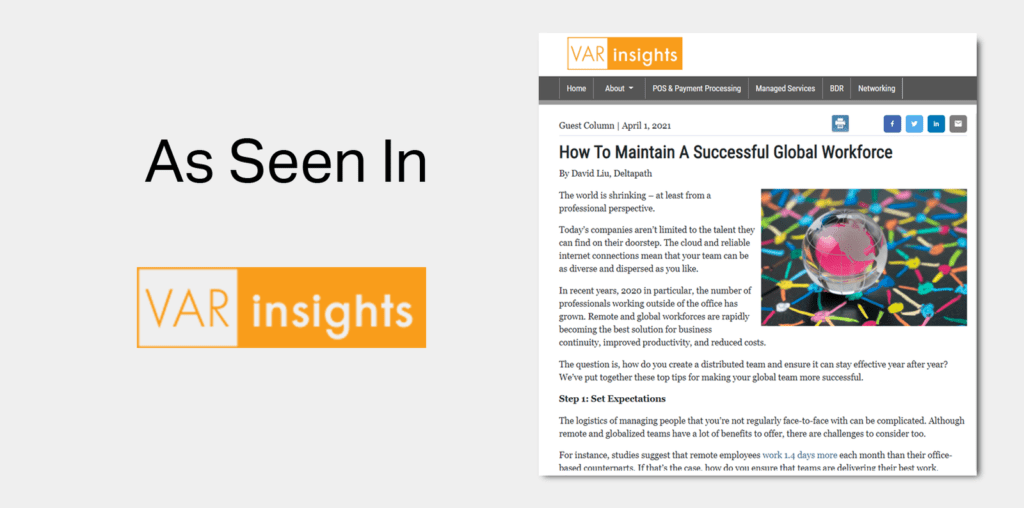 The world is shrinking – at least from a professional perspective.
Today's companies aren't limited to the talent they can find on their doorstep. The cloud and reliable internet connections mean that your team can be as diverse and dispersed as you like.
In recent years, 2020 in particular, the number of professionals working outside of the office has grown. Remote and global workforces are rapidly becoming the best solution for business continuity, improved productivity, and reduced costs.
The question is, how do you create a distributed team and ensure it can stay effective year after year? We've put together these top tips for making your global team more successful.
Step 1: Set Expectations
The logistics of managing people that you're not regularly face-to-face with can be complicated. Although remote and globalized teams have a lot of benefits to offer, there are challenges to consider too.
For instance, studies suggest that remote employees work 1.4 days more each month than their office-based counterparts. If that's the case, how do you ensure that teams are delivering their best work, without burning themselves out?
How do you give your teams the freedom they need to be creative and engaged at work while still ensuring they're available at the right times for essential meetings? Setting guidelines and outlining boundaries is essential.
From day one, business leaders need to ensure that their team members know what's expected from them each day, how their performance will be measured, and when or where they need to be available. For instance, how are you going to align different time zones for crucial meetings? This is something everyone in a global workforce will need to consider.
Step 2: Promote Constant Communication
Good communication is at the heart of any successful team. Employees need to be able to connect constantly, in a way that's suitable for them. For employees in the field, this could mean introducing push-to-talk applications and tools that give staff quick access to specialist support. For backend employees, it might mean having a complete UC environment, equipped with VoIP calling, video conferencing, and more.
Today's ever-evolving teams can't rely exclusively on email and calls to share ideas. Remote workers benefit from having access to richer technology that allows for a better context in conversations. Tools for file and screen sharing during a discussion could be helpful among some team members, hence the growing popularity of Microsoft Teams. Instant chat and messaging might be suitable for professionals who can't always sit down for a call.
If you are introducing things like messaging and video conferencing to your employees, ensure they have the right training and support to take full advantage of these tools. It's also crucial to ensure your cloud solutions are fully protected with the right security and encryption.
Step 3: Make Collaboration Simple
In a global workforce, collaboration needs to feel as natural as it would if all your team members were sitting in the same room. The good news is that many employees are already familiar with the tools they need to ensure creativity.
According to Deltapath CEO and Founder, David Liu, most companies have moved to either hybrid or full remote operations in 2021. To empower this shift, many teams are increasing their focus on essential cloud collaboration services, like Microsoft Teams.
Solutions like Microsoft Teams can become the heart of your collaboration strategy. As Liu notes: "Our gateway connects the Teams app to an existing phone provider to provide a complete unified communications solution for distributed teams. Companies get the high-quality call control and collaborative features they need in a simple, all-in-one environment. This means that you don't need to spend nearly as much time training new employees or introducing new tools."
With the Deltapath solution, users can make and receive calls through Microsoft Teams, regardless of whether they're using a desktop computer in a coworking facility, a mobile phone, or a desk phone.
Remember, once you introduce collaboration tools to your teams, be sure that they know how to use them effectively.
Step 4: Empower Team Members With The Right Tools
Collaboration tools like Microsoft Teams and reliable audio communication solutions are powerful tools in maintaining a successful global team. However, it's important to make sure that you consider all the other things that different team members need to stay effective.
If your employees are going to be answering customer service calls from different environments, having access to professional business phone solutions isn't enough. Your agents might need noise cancellation solutions that help to improve the quality of the call too. Other points to consider include:
Integrations and connectors: Does the communication system that your team uses around the world need to provide access to essential software like Salesforce, or Microsoft 365? Do all the tools your employees need integrate into an easy-to-use backend?
Video solutions: Video is becoming an increasingly important part of the workforce. In a global environment, video brings team members closer together, but it also can increase the value of customer service interactions.
Contact center support: If you're hiring team members for a global contact center, can you offer tools to make these teams more effective? Do you have a way for your virtual supervisor to whisper suggestions to agents in the middle of a call? Can employees collaborate and discuss problems in real-time?
Acknowledge that different groups in your workforce may need unique tools to help them. Sales teams may need integrations with lead tracking services, while call center agents need a way to support consumers more successfully.
Step 5: Reinforce Organizational Values With Recognition
One of the challenges of maintaining a successful global team is ensuring that company culture remains strong, despite the distance. Company culture isn't just a buzzword, it refers to the values and ideologies that your employees keep in mind as they work.
To reinforce the right business behaviors, make sure that you have team leaders in place that are constantly modeling the right behavior and sharing information through team meetings. Also, ensure that your employees know who to turn to when they feel as though other team members aren't working according to the standards you set. This promotes better work wellbeing because no-one feels as though anyone gets away with not pulling their share of the load.
Remember, while it's important your employees know what they shouldn't be doing in the workplace, it's also crucial that they know what the right actions are too. Effective recognition when your team members perform admirably is a strong signal to other team members of which behaviors they need to emulate. Recognition doesn't need to be financial to be effective.
In a global workforce, public acknowledgments, like "thank you" messages posted on social media can make a big difference. Development opportunities like free training sessions or other tokens of appreciation are helpful too. Speak to team members to determine what kind of recognition works best for them.
Step 6: Offer "Best Practice" Guidelines
One of the toughest parts of being involved in a global workforce is that employees often struggle to know which method of communication or collaboration to use for different things. For instance, if you're creating a "video first" culture at work, then your employees might think they need to host a video meeting whenever they need to check up on a project or share information.
However, as most modern team members know, over-exposure to video conferencing tools can lead to a higher sense of fatigue among employees. To prevent team members from making the wrong decisions about communicating effectively, create a list of engagement best practices. For instance, video conferencing could be the go-to option when you need to discuss something visual, like a document that you can show via screen sharing.
When someone wants to check-in on a team member with a quick meeting, give them the option to choose between audio and video conversations depending on what makes them feel most comfortable. Some employees still won't be 100% confident with video meetings.
If people are just sharing quick bits of information, or offering an update on a project, then an instant message or email is likely to make a lot more sense than a full conference.
Having these guidelines in place will reduce the number of unnecessary and unproductive meetings that take up too much of your team's time.
Learn As You Go
Ultimately, there's no one correct way to manage a global team or make sure that your staff is as productive as possible. As the world of work becomes increasingly distributed and dispersed, business leaders will need to be open to learning as they go.
Allow your team members to experiment with the styles of work and tools that work best for them. Request regular feedback from your employees and use services to track things like first-time resolution rates in the contact center. Even evaluating Microsoft Teams usage can help you to keep an eye on your global team members without micromanaging them.
Eventually, you'll discover what works best for your team.
About The Author
David Liu is the founder and CEO of Deltapath. He drives the company's vision, strategy, and growth as it builds innovative technology to enable people to communicate and collaborate beyond boundaries. Under David's leadership, Deltapath has deployed its flagship products in more than 94 countries around the world. David also spearheads the technical strategy of the company and is dedicated to building a team of world-class engineers to keep Deltapath at the forefront of the industry.