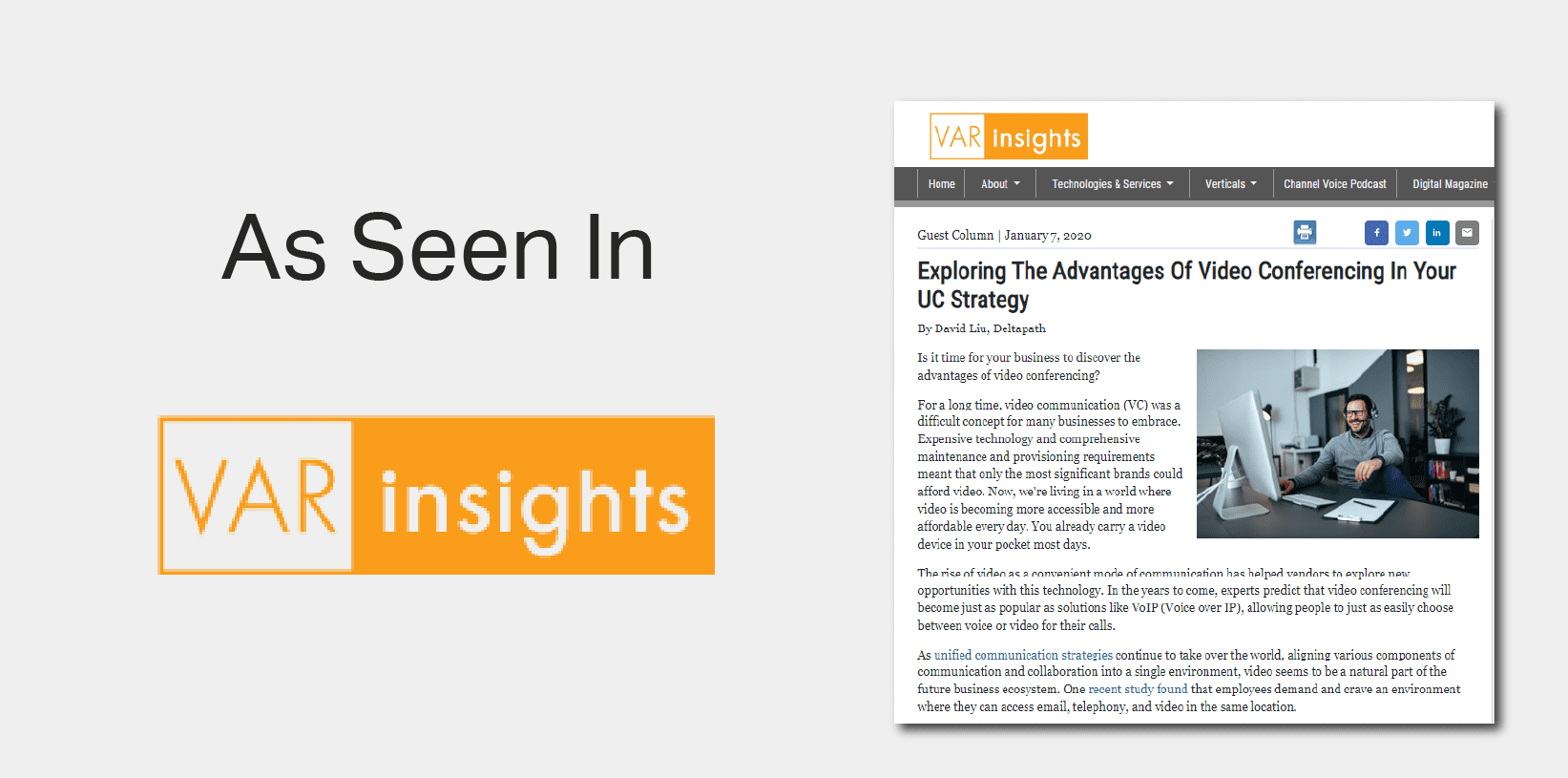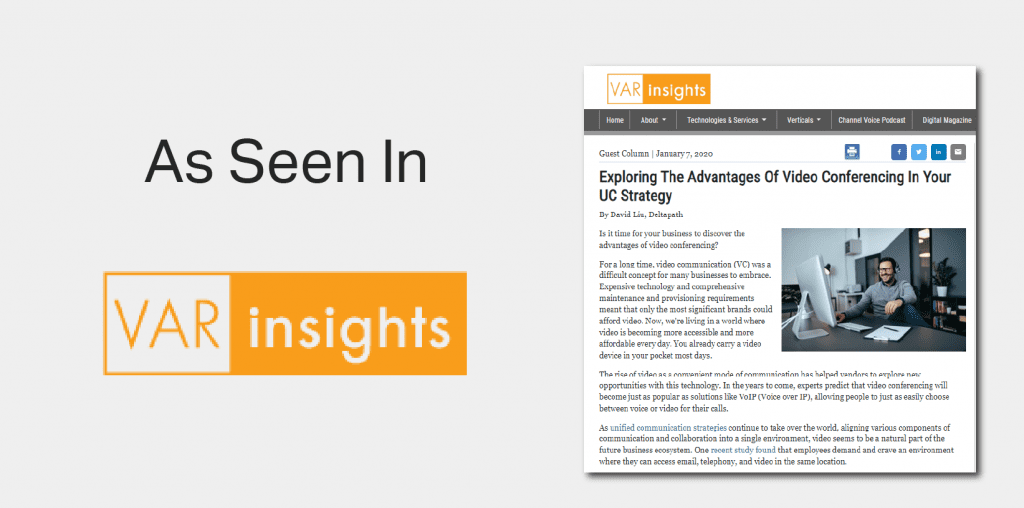 Is it time for your business to discover the advantages of video conferencing?
For a long time, video communication (VC) was a difficult concept for many businesses to embrace. Expensive technology and comprehensive maintenance and provisioning requirements meant that only the most significant brands could afford video. Now, we're living in a world where video is becoming more accessible and more affordable every day. You already carry a video device in your pocket most days.
The rise of video as a convenient mode of communication has helped vendors to explore new opportunities with this technology. In the years to come, experts predict that video conferencing will become just as popular as solutions like VoIP (Voice over IP), allowing people to just as easily choose between voice or video for their calls.
As unified communication strategies continue to take over the world, aligning various components of communication and collaboration into a single environment, video seems to be a natural part of the future business ecosystem. One recent study found that employees demand and crave an environment where they can access email, telephony, and video in the same location.
So, what are the benefits of video conferencing in the workplace, and how can you unlock them for your team?
Enabling The Digital Workplace
It's no secret that the workforce is evolving.
Experts suggest that 50 percent of U.S. employees will be working remotely by this time next year (2020). The rise of cloud technology and mobile communication means that work is no longer a place we go to, but something that we do. Video supports this concept by allowing companies to create more immersive and collaborative cultural environments, even in a time when staff members may not be located in the same office.
Video conferencing software helps teams dispersed across the world to maintain human connections, regardless of their physical location. This speeds up decision making, improves productivity, and reduces the risk of misunderstandings common in email and voice. In many circumstances, facial nuances and body language can deliver a more complete message between workers, particularly in an environment where team members are often on-the-go.
Ultimately, video maximizes your human resources, allowing for greater engagement and productivity, regardless of where your staff might be.
Driving Greater Efficiency
Much of the importance of video conferencing comes from the fact that our conversations are frequently supported by visual cues. It's not always possible to explain a complex idea to someone through text or audio alone. Because of this, the advantages of video conferencing can allow businesses to give staff members a greater degree of context to bolster their conversations. With demonstrations, display mockups, and even face-to-face interactions, communication becomes more accurate and efficient.
As the technology available for video conferencing continues to evolve, driven by technology like 5G for lag-free connections and 4K resolution, video could be the easiest way for teams to communicate. Far more immersive than a standard audio conversation, video allows teams to mimic face-to-face interactions at a distance, without the need for expensive travel.
With video conferencing, organizations can bring their remote workers face-to-face with in-office employees, boosting productivity on both sides. As your company continues to evolve, video could even open the door for better work/life balance, by making sure that people can communicate well, without having to compromise on their personal schedule requirements.
Increased Employee Satisfaction And Engagement
Countless studies confirm that happier; healthier employees are more productive than their counterparts. Video communication helps on both sides. On the one hand, frequent travel can take an emotional and physical toll on your employees – even if that travel is just associated with commuting to and from work. Recent studies have begun to find that commuting every day can significantly harm a staff member's wellbeing, health, and productivity levels.
The longer the commute, the worse the side effects become. That's one of the reasons why telecommuting is on the rise. Working remotely allows individuals to get their work done without visiting the office. Video conferencing can help to support remote workers by giving them a way to stay connected to the rest of the company and feel like part of the team.
Another way that VC improves employee engagement and satisfaction, is by making sure that on-the-field and in-office workers can get the assistance they need more quickly and effectively. Imagine an employee was having issues troubleshooting an electrical problem in the field, it would be much more suitable for this individual to get immediate assistance through a video call with a colleague who could see the issue firsthand and easily lead the field worker step by step in solving the problem instead of communicating by email, text, or voice.
Better Customer/Client Experience
It's not just your staff members that benefit from video conferencing either – it's your customers and clients too. With mobile video contact centers, companies can create flexible and immersive strategies for connecting with their clients on the channel that suits them. Mobile contact centers ensure that your employees have the freedom to work on-the-go, while the advent of video ensures that you'll always be able to build a more personalized relationship with customers.
Imagine a customer for a healthcare company called a mobile doctor for instance, looking for advice. A mobile contact center would allow the business to transfer that call to the right doctor, at the right time, wherever the doctor might be. What's more, because the doctor and patient can both access video through their mobile devices, they can connect face-to-face.
Video in this situation is an excellent way to put the patient's mind at ease with a human touch. Moreover, patients can still feel like they are maintaining a patient/doctor relationship. Eye contact, a smile, and even a few facial expressions help to build relationships between human beings. Additionally, video would also mean that patients could show doctors their injuries or provide other visual information to help the professional make a more accurate decision about what to do next.
It's not just the healthcare industry that can see the benefits of video conferencing in the workplace. Making insurance claims is easier and less stressful when an individual can actually show damage to a car during a video call. They can start the claim, assess your well being at the same time, and connect you to a video or audio call with your loved one to help in your emotional health. Any company that can deliver a better experience to customers from a face-to-face conversation will see the results of increased client satisfaction.
It's Good For The Environment
Your green initiative might not be the first thing you consider when you're looking at the importance of video conferencing. However, many companies today are beginning to realize that if they want to connect with their audience, they need to invest in the things that those people care about. With video conferencing, you can significantly reduce the amount you travel for a face-to-face conversations, less travel means smaller carbon footprint, and that leads to less pollution.
Additionally, video conferencing also can reduce the reliance that your business has on in-person meetings, which gets rid of paper, ink, and plastic waste. Some companies even find that by providing their employees with video tools, they can move to a smaller office where only some of their team members attend work in-person. This reduces the impact on the environment by taking up less real estate and using less energy each day.
You're not just saving the environment with the advantages of video conferencing; you could be saving money too. Studies have found that businesses with more than $1 billion in annual revenue can achieve a return on their investment within 15 months of implementing video.
Adding Video To The UC Environment
While the benefits of video conferencing in the workplace are significant, it's important to remember that the rise of video doesn't mean the end of audio calls. Indeed, video conferencing still requires exceptional audio quality to ensure that you can make the most out of your communication strategy.
A lot of people in the modern workplace get so caught up looking at things like picture quality and streaming speeds, that they forget to place the right investment into their audio tools as well. However, even with the best picture quality, your teams will have a hard time communicating if you can't rely on your audio quality. At Deltapath, we've made sure that our clients don't have to compromise on audio to access excellent video. Our collaboration with Dolby voice, experts in sound quality, means that you can take both your audio and video conferences to the next level and enjoy crystal clear audio with video. Dolby Voice, a technology that delivers lifelike clarity and nuance while suppressing background noise, is integrated into our end-to-end solution.
What's more, because Dolby Voice collaboration extends to our mobile applications, we can ensure that businesses can continue to access the same fantastic quality of sound and video whether they're in the office or on the move.
When you're exploring the benefits of video for your business, make sure that you consider the importance of combining your video strategy with the rest of your communication initiatives. That's what it means to truly add video into the UC environment. By itself, video conferencing isn't enough to transform your workplace. However, when it comes as a complete package for communication and collaboration that your team members can access with ease, you'll start to see and enjoy the benefits.