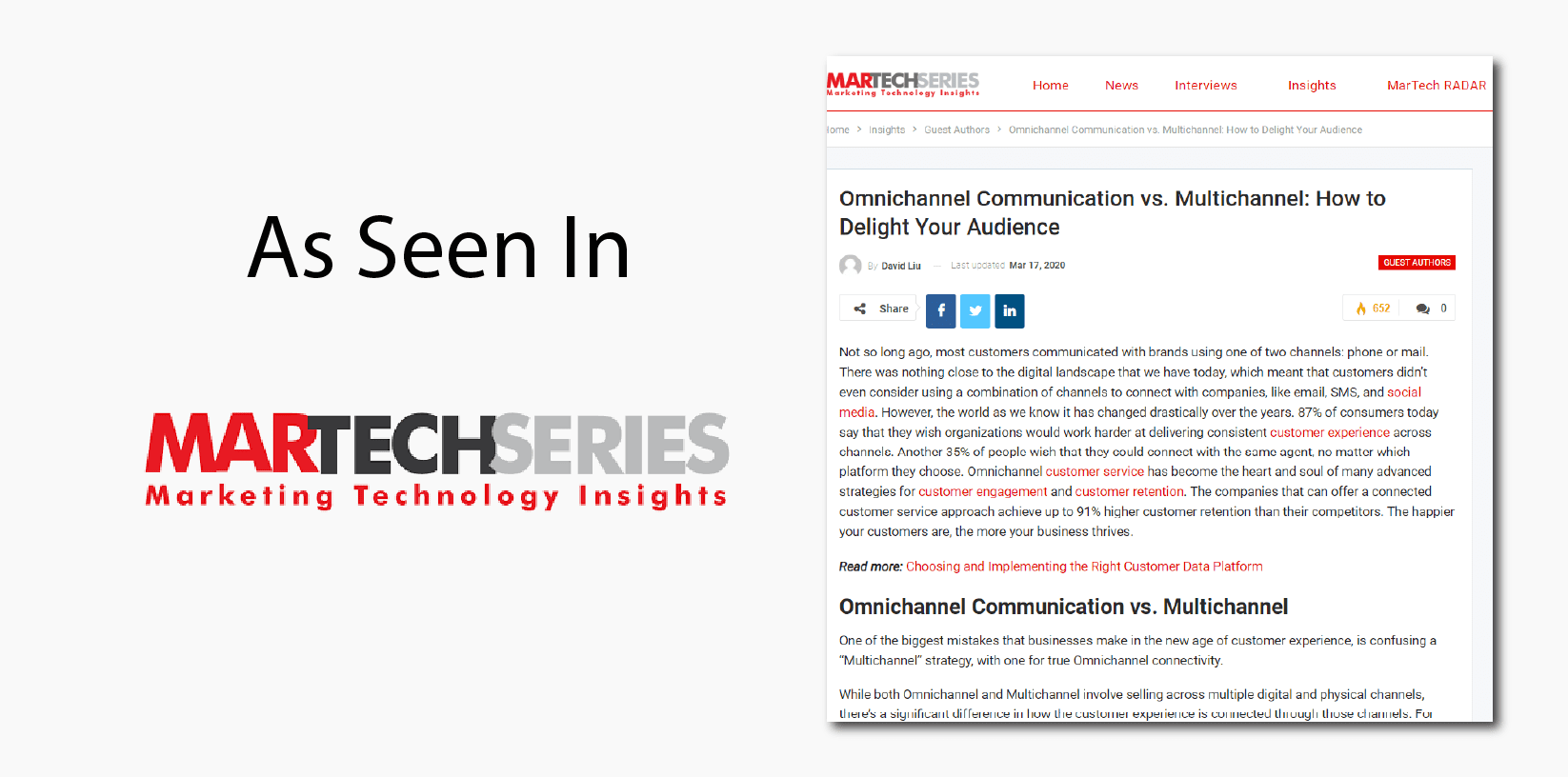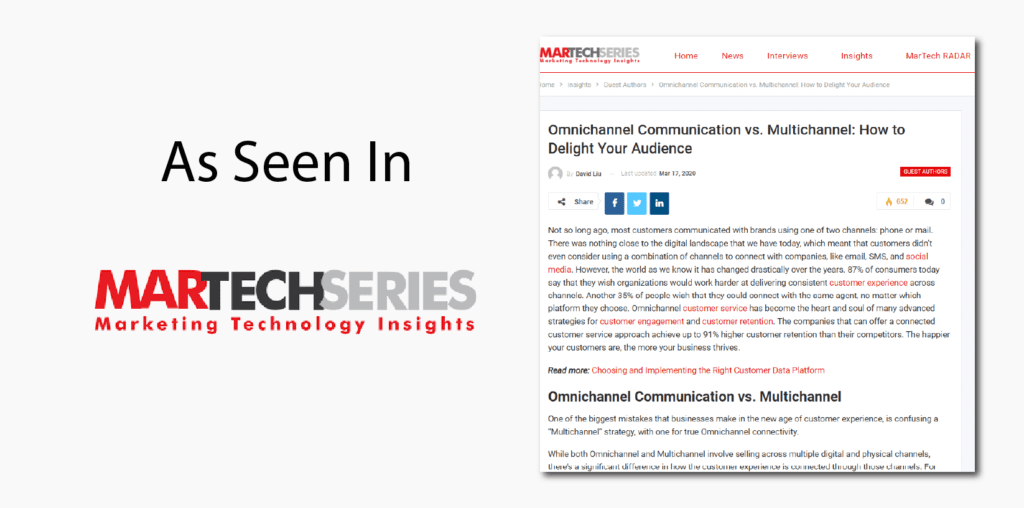 Not so long ago, most customers communicated with brands using one of two channels: phone or mail. There was nothing close to the digital landscape that we have today, which meant that customers didn't even consider using a combination of channels to connect with companies, like email, SMS, and social media. However, the world as we know it has changed drastically over the years. 87% of consumers today say that they wish organizations would work harder at delivering consistent customer experience across channels. Another 35% of people wish that they could connect with the same agent, no matter which platform they choose. Omnichannel customer service has become the heart and soul of many advanced strategies for customer engagement and customer retention. The companies that can offer a connected customer service approach achieve up to 91% higher customer retention than their competitors. The happier your customers are, the more your business thrives.
Omnichannel Communication vs. Multichannel
One of the biggest mistakes that businesses make in the new age of customer experience, is confusing a "Multichannel" strategy, with one for true Omnichannel connectivity.
While both Omnichannel and Multichannel involve selling across multiple digital and physical channels, there's a significant difference in how the customer experience is connected through those channels. For instance, a traditional multi-channel customer service solution might offer video communication and phone calls. However, the two platforms would usually be siloed, with no direct link to each other. That means that the customer would need to explain their situation all over again from one location to the next.
Omnichannel communication, on the other hand, makes sure that each component of the customer journey is connected. A user can reach out through instant messaging, accelerate their conversation to a sales call, then move to video if necessary. In this case, they can either stick with the same agent throughout their conversation or ensure that each employee they talk to is equipped with the same information to help them solve their problem.
Using Omnichannel Customer Service in the Digital Age
Though the multi-channel approach still has merit in the communication landscape, it's often used as a stepping stone to a true Unified Communication strategy. We're living in a world where customers are becoming more likely to engage with retailers via multiple touchpoints, which makes it necessary for every organization to adapt accordingly.
Additionally, the growing trend towards Omnichannel customer service has begun to heighten already significant customer expectations, placing additional pressure on even smaller companies to keep up with demands. The UC Omnichannel communication strategy serves the needs that today's consumers have when they approach their favorite companies. For instance, statistics suggest that:
62% of customers believe the quality of service they receive from a business is a competitive differentiator. This differentiator helps your audience to choose you over other brands
52% of customers say that they're less likely to engage with a brand after just one bad experience on a single channel.
83% of consumers head to the web for information instead of making a phone call, which means that even self-service chat portals are becoming a part of the Omnichannel experience.
Unlocking the Benefits of Omnichannel Communication
In the beginning, Omnichannel communication was like any aspect of Unified Communication experience. Businesses assumed that it was only possible to align technology stacks if you were a massive corporation like Amazon or Google. However, today, anyone can access an environment that brings their communication strategy together in a cohesive space.
Through a Unified Communications platform and a connected strategy for contact center management, your business can unlock the various benefits of Omnichannel communications, such as:
1. Centralized Data Insights and Technology
Behind every successful Omnichannel communication strategy is an incredible selection of immersive technology innovations. Unified Communications tools like Deltapath UC on the Cloud can provide access to things like mobility, easy implementation, and centralized data insights from across your entire technology stack.
Because the platform is available through the Cloud, it's highly scalable and extensible. You'll be able to connect your communications system with your CRM and contact center software to ensure that employees access a single point of truth for all customer data.
When teams can access a more comprehensive collection of customer data, it's much easier to access the context required to deliver relevant and personalized interactions in the contact center. You can provide your team with all the insights they need into the history of each customer relationship, as well as information on which channels your clients prefer to use for communication. You'll also be able to set up automated notifications to remind users to follow up with clients when necessary.
2. Proactive and Timely Communications
Today's customers create their own buyer journeys in a range of different environments. Customers can buy products when they're on the train home from work, while others research mortgage options from their smartphone. We're living in an environment where information is always available on-demand, which changes the way that people think about their interactions with brands.
Through an Omnichannel communication strategy, you can make sure that you're always available to serve your customers when and where they need you most. You'll be able to send push notifications to clients when they visit your website to ensure that they know where to access self-service assistance. Or you can provide instant messaging support to smartphone users when they're not available to make a phone call.
This freedom of communication makes it more likely that your audience will stick with you when they need quick and convenient purchase options, rather than seeking out alternative options.
3. Better Employee Experience
It's not just the customer experience that's important to business success today – it's the employee experience too. Up to 70% of today's employees say that they would rather work for smaller or mid-sized companies than larger enterprises. This is often because smaller brands have the agility and freedom to use Cloud-based communications.
A strategy for Omnichannel customer service ensures that your employees don't have to spend as much time jumping between applications when they're trying to do their job and deliver fantastic service to your audience. At the same time, this strategy ensures that your employees have the tools required to reach out to their coworkers for assistance when necessary.
When employees need assistance from specialists in their field, they'll have the option to tap into enterprise collaboration tools, where they can share files and message their peers in real-time environments. Collaboration software is quickly emerging as a critical addition to the customer and business experience landscape. When your team can connect more cohesively on the back-end, they can work together to solve complex customer problems more quickly.
4. An Insight-Driven Business Strategy
Finally, bringing all of your communications efforts together in a single environment also means that you can design a more connected and cohesive environment for data acquisition and analytics. When you're pulling information in from every conversation that you have with a customer, from phone calls to SMS messages and instant chat, it's much easier to collect valuable insights into the buyer journey. The more you learn about your audience through these insights, the more you can tailor your future customer engagement campaigns to drive a return on investment.
Although it's essential to be careful about the way that you collect and store information on the Cloud – particularly in the age of GDPR – data can be a valuable addition to any contact center. The key to success is often making sure that the data you access is comprehensive. While a traditional multi-channel environment would create multiple siloed streams of information, an Omnichannel communication environment brings everything together in one accessible space. Businesses could even use this combined data to feed Predictive Analytics and Artificial Intelligence tools.
Supporting the New Omnichannel Customer Journey
The customer journey isn't as simple or straightforward as it once was.
Just as businesses are finding new ways to communicate more effectively behind-the-scenes through multiple channels and platforms, they also need to ensure that they're giving their customers the freedom to communicate with them however, they choose.
While traditional modes of communication like email and the standard telephone call are still important, businesses that expand into an Omnichannel environment can ensure that they stand out from the crowd. As the business landscape becomes increasingly competitive, your Omnichannel environment could be the key to convincing your audience that you can give them the unique experiences they're looking for – both online and offline.
In today's digital era, the question isn't whether you should replace your multichannel communication stack with a more unified solution. Instead, the question is whether you can afford to handle the silos and gaps in your communication environment, in a time where customers are demanding more aligned moments with their favorite brands.