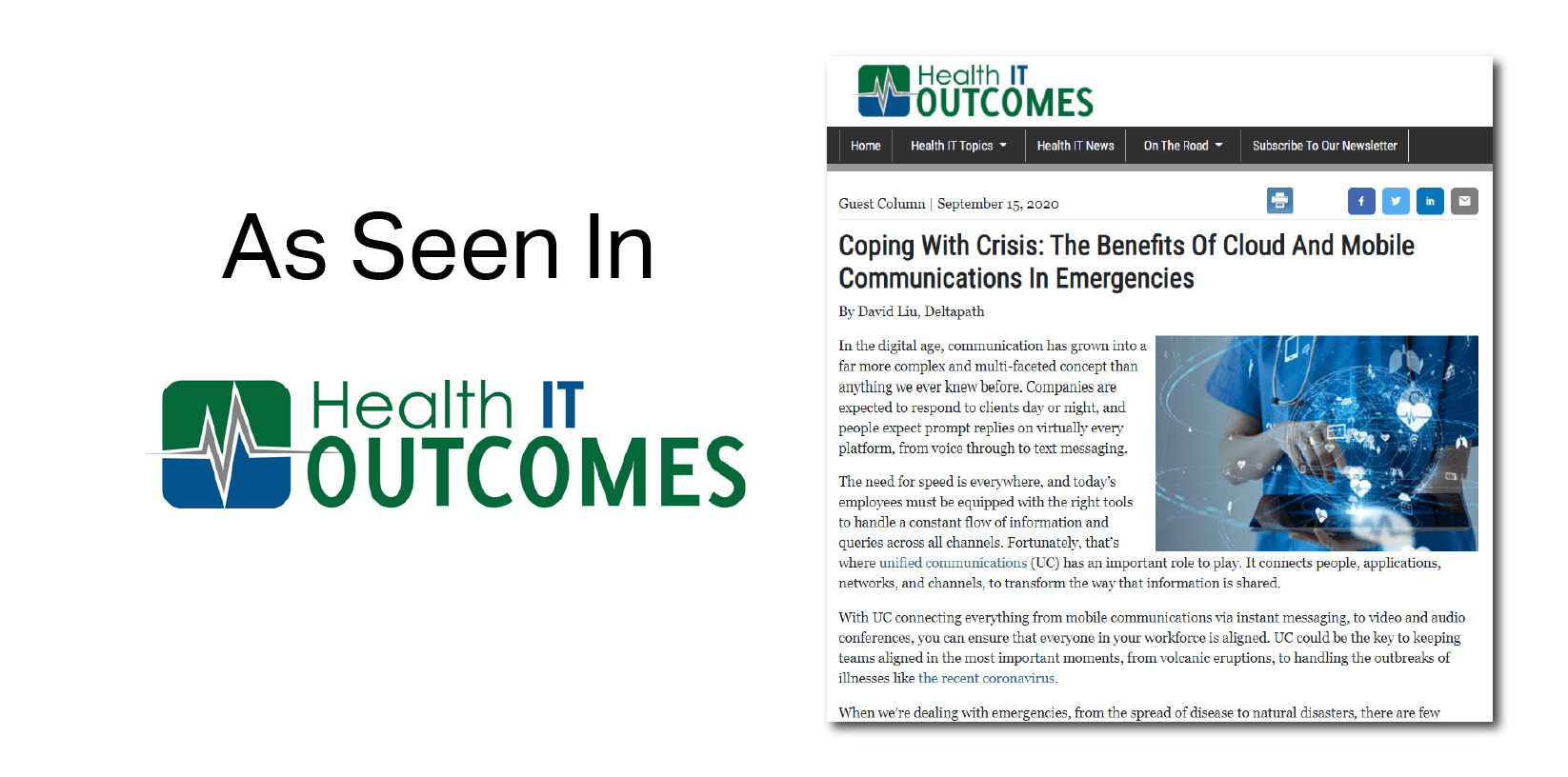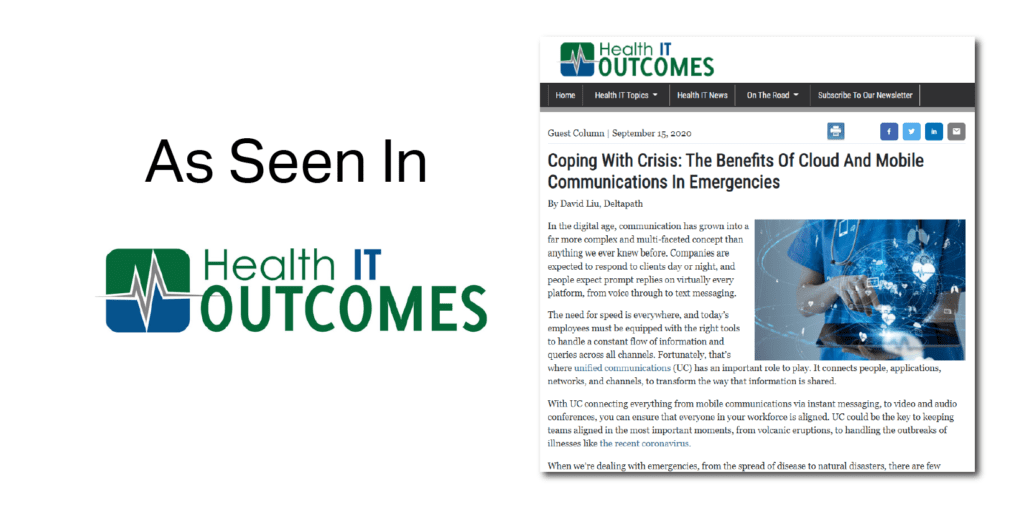 In the digital age, communication has grown into a far more complex and multi-faceted concept than anything we ever knew before. Companies are expected to respond to clients day or night, and people expect prompt replies on virtually every platform, from voice through to text messaging.
The need for speed is everywhere, and today's employees must be equipped with the right tools to handle a constant flow of information and queries across all channels. Fortunately, that's where unified communications (UC) has an important role to play. It connects people, applications, networks, and channels, to transform the way that information is shared.
With UC connecting everything from mobile communications via instant messaging, to video and audio conferences, you can ensure that everyone in your workforce is aligned. UC could be the key to keeping teams aligned in the most important moments, from volcanic eruptions, to handling the outbreaks of illnesses like the recent coronavirus.
When we're dealing with emergencies, from the spread of disease to natural disasters, there are few things more important than communication. After all, it's the exchange of information between experts that help lead to the delivery of cures and treatments for illnesses. The ability to connect to people in isolated locations can even play a part in reducing the spread of disease, keeping citizens informed and educated, so that they can protect themselves.
Staying Connected In A Crisis
Panic and confusion are common in a time of crisis. Without the right guidance and support, it can be easy for any environment to fall into chaos. Yet, when disasters happen, it's often communication that's the first thing to break down.
In the modern landscape, the right technology, from enterprise instant messaging, to cloud phone systems that can keep team members connected remotely, could play an important role in minimizing the disruption of major issues.
Cloud-based communications and unified communication services implemented into the business environment gives companies a way to serve both their employees and customers with the information they need during a crisis.
These are the technologies that allow customers to remain informed about a power outage, or a potential local or wide-spread threat. They're also the technologies that give employees the freedom to work from home to avoid entering a dangerous area when threats are everywhere.
The right cloud-based communication system can even transform the efficiency of the contact center in a time when emotions are running rampant. Intelligent IVR technology with AI means that anxious callers can be more quickly routed to the right agent to assist them with their questions. Artificial intelligence and natural language processing, combined with self-service solutions that work in harmony with human agents, helps to provide a streamlined and more organized strategy for dealing with crises.
Cloud Communications And Handling Pandemics
Cloud-based and unified communications may also be crucial to helping organizations to manage severe situations safely. During disruptive weather conditions, or in the case of the current coronavirus, workers don't have to travel to the office, they can get online anywhere and connect to a business. Safety is delivered through UC and cloud services, allowing us to reduce the risk of contact with infected people.
At the same time, these communication tools ensure that we can continue to connect, even when the worst happens. To some degree, a cloud communications strategy is the key to business continuity in an unpredictable world. Used correctly, it can be a disaster recovery plan in and of itself.
With cloud communications delivered through a mobile solution, business continuity can be preserved in times of disaster. Employees can make outbound calls through video and audio wherever and whenever they need to. Plus, the employee's office phone is paired with their mobile app, meaning that whenever the office phone rings, the mobile phone rings too.
In the case of something like the Coronavirus, this means that your teams never have to miss out on important calls because they're unable to reach the office for risk of interacting with infected people. Keeping the communication lines open during a disaster and keeping your business running smoothly is crucial to giving your customers the consistency they need.
In the world of healthcare and the spread of illnesses like the coronavirus, you could even use a combination of mobile and cloud solutions from Deltapath to set up meetings between specialists from around the world.
For instance, healthcare providers in Italy dealing with coronavirus outbreaks could connect with people from overseas who may not be geographically close to the problem but can offer valuable insights. Using a combination of UC, cloud technology, and high-definition cameras, experts could even diagnose and triage patients remotely.
This technology could even help to avoid putting other people and doctors at risk of infectious diseases. Access to a video contact center or telehealth with video conferencing in the healthcare environment means that patients can be seen and diagnosed quickly, without coming in contact with others, where the disease would have a chance to spread. Patients could get the same level of care and attention from home through cloud platforms and video technology.
Creating A Communications Strategy That's Ready For Anything
Already, many businesses around the world need some manner of cloud-based emergency communication system in place. Whether it's something as simple as a mass notification system that works with or without access to the internet, or a complete video-conferencing network, we all need a way to stay connected in times of crisis.
Mobile communications, UC, and the cloud are the technologies that are proving themselves to be extremely helpful in times of emergency and crisis. While Unified Communications and mobile technology gives businesses a centralized system for executing a crisis readiness strategy at scale, communications delivered over the cloud means that people can stay connected, wherever they are.
We've already seen that technology, which allows people to work anywhere and at any time, can significantly improve the productivity and performance of our workforce. According to Connect Solutions, 77% of people whose teams can use their UC systems to execute communication strategies at scale, similar to a modern-age phone tree, where critical employees are instantly alerted so that they can begin working on a plan. The same solutions can help businesses to get in touch with customers over any channel to convey crucial information about what's happening, and what they need to do next. Mass notification systems in the business landscape have already proven themselves to yield massive returns.
In emergency circumstances, officials can communicate with people clearly, quickly, and in real-time, ensuring that response teams are deployed as fast as possible. At the same time, regular communications can be automated, and strategies can be put in place to avoid the further development of the problem. Something as simple as allowing certain members of staff to stay at home rather than traveling to an area where a virus is running rampant could help stop the spread of disease.
That action can then have a massive ripple effect on the whole environment that the business is located in. Fewer people spreading viruses and ailments, combined with more access to specialist help over video conferencing and UC tools means that pandemics can be identified, quickly controlled, and overcome with minimal disastrous outcomes.