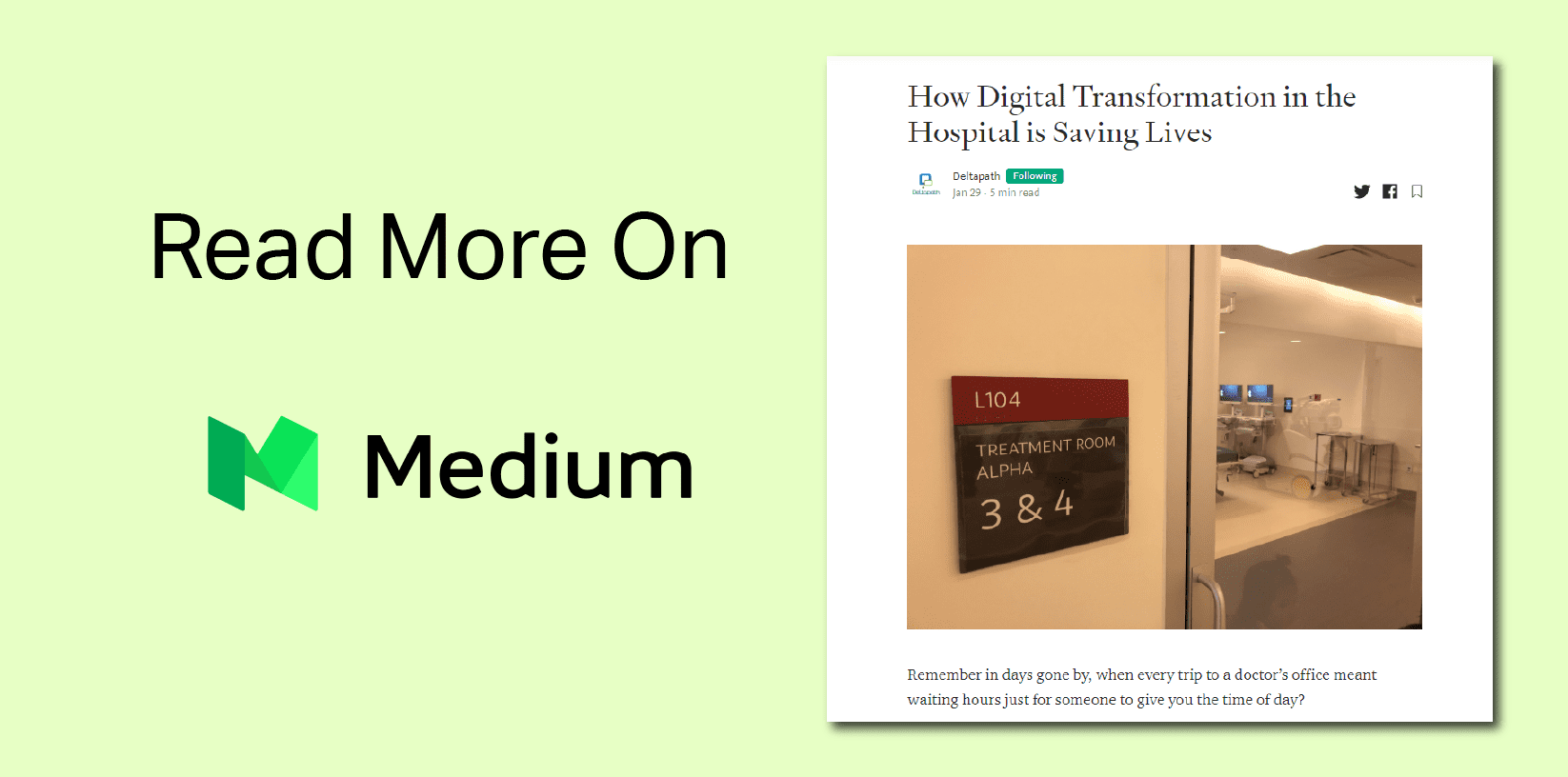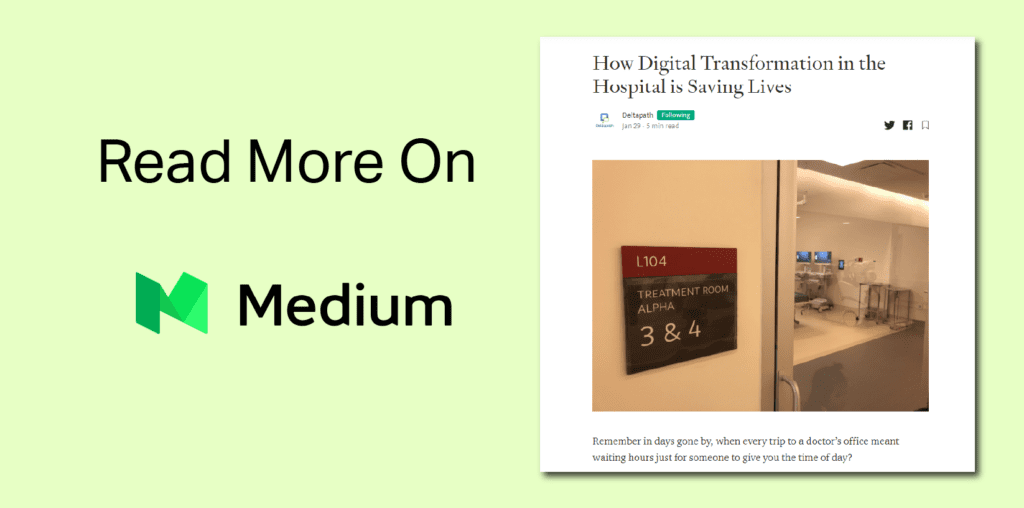 Remember in days gone by, when every trip to a doctor's office meant waiting hours just for someone to give you the time of day?
The good news is that the quality of care available in the modern healthcare environment is evolving. These days, just like any other industry, the healthcare environment is growing at a rapid pace, taking advantage of the latest disruptive technologies available on the market.
As customer experience (or patient experience) becomes increasingly essential in the modern world, digital transformation is changing the way we think about care.
Today's innovations are helping us to live longer, overcome illnesses faster, and even keep discomfort to a minimum for modern patients.
Let's take a look at how digital transformation in the hospital can save lives.
The Rise of Telemedicine and XR
Back in 2015, there were around 1 million telehealth patients worldwide, reliant on mobile connections to get the care they needed. By the time 2018 rolled around, the number had risen to 7 million. Today's technology is empowering patients in remote and distant locations to get the same life-saving support as their counterparts.
If you can't afford to fly half-way across the country to meet a specialist or travel for hours to speak to your doctor, telemedicine could be the answer. With video conferencing available, some people can even achieve a telehealth conversation that feels just like a face-to-face chat. What's more, telemedicine saves doctors a lot of time and hassle when it comes to traveling to visit patients. The fewer time specialists spend on the road, the more they can devote to their patients.
To make medical innovation even more exciting, the way that we communicate is beginning to evolve too. Alongside video conferencing and audio conferencing, experts are also investing in things like mixed reality too. AR and VR are helping doctors to learn how to perform dangerous procedures like open-heart surgery without having to perform on living creatures. However, on a smaller scale, these technologies are also making it easier for patients and doctors to interact at a distance. In the future, it could be possible to send your doctor a full 3d rendition of a problem you're having with VR.
AR and VR are also helping dementia and Alzheimer's patients to access a higher quality of care by allowing them to return to a memory or experience from their past. This might not cure Alzheimer's, but the strategy allows these individuals to get more joy out of their day-to-day lives.
Artificial Intelligence and Blockchain
Two of the biggest trending topics in any conversation about digital transformation are artificial intelligence and blockchain. The rise of AI has had a lot of exciting impacts on the healthcare environment. For instance, if you've ever had to go for a test and been left waiting weeks for the results, then you'll know how exhausting this can be. Technology is now creating a more streamlined experience. Through AI, body scans and other services can be dramatically improved.
According to the latest studies into CAT scans, artificial intelligence and machine learning can process scans up to 150 times faster than a human radiologist could. This means that users can detect a vast number of acute neurological events within seconds. Since waiting around for results can be a very stressful event, this kind of customer experience can make life a lot easier for patients. What's more, because AI can help with things like figuring out the right pharmaceutical compositions for patients, it allows for faster medicine trials than ever before.
Blockchain can also make a huge difference to the amount of time and stress involved in pursuing the right treatment options. For instance, if you've ever had to visit a specialist or switch your doctor, you'll know that transferring patient files can be a real headache. Fortunately, blockchain makes the process much simpler, by allowing doctors and specialists to access a complete medical history. This makes it easier for doctors to access the information they need so that you can get the right quality of care.
What's more, because blockchain is built for safety and security from the ground up, it can also help to solve a lot of critical security and data protection issues. This could help insurance companies and healthcare businesses save more money too.
Sensors and the Internet of Things
The Internet of Things and intelligent sensors is another area where we've seen a lot of growth over the years. Connected devices are allowing innovators to invest in everything from intelligent cars to smarter homes. Now we're seeing the impact of these tools in the healthcare environment too.
Sensors capable of collecting and analyzing biometric data, along with location information and other details, are becoming essential to the changing quality of care in healthcare. Leading tech company, Deltapath has been making strides in the IoT area by working hand-in-hand with the innovators at Toppan Printing in Japan. The company has made state-of-the-art mattresses that are infused with sensors, which allow healthcare providers to detect when a patient is in the bed, and when they get up. The sensors can also collect information about heartbeat when patients are breathing abnormally and more. When combined with the Deltapath Acute app — a smartphone tool for monitoring patient care and improving collaboration, the power of these IoT mattresses increases.
The mattresses can send information directly to the Deltapath app, allowing healthcare workers to access instant alerts when a patient wakes up. Using intelligent sensors, healthcare workers can get a better overview of the condition of each of their patients from within their smartphone. This means that they'll know when not to disturb sleeping patients, and when to rush to the aid of someone who might be breathing abnormally. It's even possible to send quick greetings to patients after they've woken up on a morning and check if they need anything.
Digital Twin Technology and Other Innovations
As new and pioneering technology continues to appear around the world, the opportunities for healthcare companies will only increase. For instance, recently, experts have begun to experiment with the advent of digital twins. These tools are designed to bridge the gap between the physical and digital worlds. They work alongside computer systems and industrial technology to create models of environments that are as easy to traverse as the physical space.
In the healthcare landscape, a digital twin could provide a safe and easy-to-manage scene where manufacturers can test the impact of changes on the performance of a healthcare procedure, by experimenting with a virtual version of the system. This means that healthcare providers can ask "what if" and find the answers to their questions more quickly.
When combined with artificial intelligence, digital twin technology becomes even more impressive, allowing for deeper insights and more sophisticated healthcare procedures.
The Future is Now
Innovators like Deltapath and countless other health-focused companies are showing us the true extent of what might be possible in the future of healthcare. Digital transformation is changing every part of the modern landscape — including the way that we protect and save human lives. As the world continues to evolve, the opportunities for healthcare are endless.